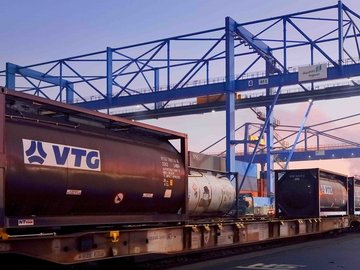 Eurasia Logistics
Our wealth of experience and infrastructure in Eurasia is there for you to use.
VTG carries out multimodal transports of box and tank containers in Europe – a concept that is equally persuasive for the entire Eurasian region. In particular for time-sensitive assignments and high-value goods, container transport by rail to Asia and back to Europe is worthwhile. Thanks to our outstanding logistics expertise, stable international network and proven, long-standing partners, everything works smoothly and efficiently. By planning reliable international supply chains, we offer our customers safe and top-quality solutions for rail transports to the CIS countries, Central Asia and the Far East.
We have decades of experience covering the entire transportation chain, from the conception and planning phase to the holistic handling of container transports. We naturally also give our customers everything from project logistics solutions to block trains and single-wagon transports for chemical products, machinery and plant engineering components – supported by cutting-edge telematics technology. That is what VTG means by single-source logistics!
Within the VTG Group, a wide range of container carriers and tank containers are at your disposal. You can also benefit from the traction solutions in our pan-European Retrack network, as well as from VTG's joint venture with COSCO in China.
How you benefit:
Door-to-door and terminal-to-terminal transports
Handling of container block trains and company-specific block train concepts
Option of booking specific route sections along main transport corridors
Upstream and downstream transports by road or rail
Optional provision of box, tank and refrigerated containers as well as flexitanks
Loading of box containers, handling of partial shipments
Container tracking and tracing
Customs clearance and documentation
24/7 support from our international offices