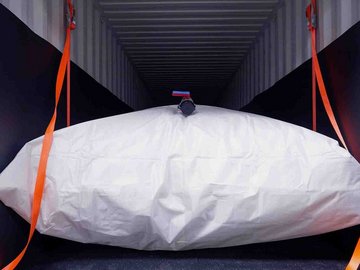 Flexitank Logistics
How VTG transforms box containers into tanks for liquid transports.
Our flexitanks make it child's play to transform a conventional box container into a bulk liquid transport solution. Flexitanks are a clever alternative to traditional ways of shipping non-hazardous liquids in small packaging units such as drums and intermediate bulk containers (IBCs).
VTG's ingenious system uses multilayered flexitanks with capacities ranging from 12,000 to 24,000 liters. Best of all, each flexitank fits snugly into a standard 20' sea freight container – making full use of every cubic centimeter of available container space. As VTG collaborates only with first-class suppliers, we have entered into a strategic partnership with flexitank manufacturer Büscherhoff Packaging Solutions. Together, we are constantly developing and improving flexitanks for 20' and 40' containers.
Flexitanks can carry just about every conceivable liquid, including agricultural oils, liquid latex, wine, mineral water, fruit juice, edible oils, biofuels, glycerin and non-hazardous industrial chemicals. Tell us what you would like to transport and we will check the compatibility of your product with our foils and find the right composition for your specialized packaging needs. There is no need to return flexitanks, so you will incure only single freight charges. Disposal or recycling of the empty flexitank is the customer's responsibility, although VTG can also offer this as a separate service. Either way, a clean solution.
How you benefit:
Our flexitank service is a full service, including everything from fitting and filling to end-to-end logistics handling.
By transporting up to 30 percent more liquid per container compared to drums and IBCs, up significant savings can be achieved.
Loading and unloading times are roughly 90 percent shorter than for drums and IBCs.
Our manufacturer uses only virgin foils to eliminate any risk of cross-contamination between cargos.
End-to-end service
We source flexitanks from our global stock, which is available to our customers worldwide.
After containers have been selected from shipping line stocks, the flexitanks are fitted at a VTG assembly point to accommodate your specific transport needs.
All our fitting teams and partners are recertified once a year by VTG to ensure constant compliance with our strict quality standards.
The cargo is collected from your site and transported by road, rail and/or barge to the seaport for export.
Containers fitted with flexitanks are shipped to their destination using our sea freight services.
Customs clearance is obtained at the consignment's interim destination.
The cargo is transshipped and carried by road or rail to its final destination.
On request, we can handle the recycling and disposal of the VTG flexitanks on your behalf.
Contact us
Looking for more details? Our experts will be happy to answer your questions.
Contact form