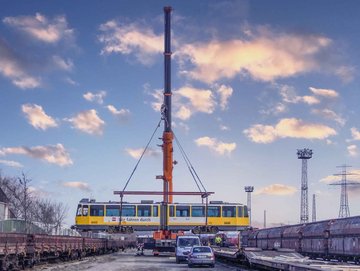 Project Logistics
Our in-depth expertise in the logistics of mechanical and plant engineering is ready and waiting for you.
Are you planning a project in the mechanical and plant engineering space? We make sure all the relevant logistical aspects are handled smoothly and reliably. Our Project Logistics team will be happy to advise you right from the planning and design phase, supplying you with transportation and feasibility studies if you need them. A strong international footprint enables us to plan and coordinate the cross-border movement of your construction machinery, excavators and equipment. We can also keep a close watch on the interfaces at numerous transshipment points – ensuring that your goods go exactly where they are needed.
To complete your project, we combine all the modes of transport you need – road, rail, sea and/or air – at attractive rates and in the way that suits you best. Drawing on years of experience in project logistics, we can place all multimodal transports at your disposal, developing complex transport chains, applying for approvals, organizing upstream and downstream arrangements, overseeing transshipment and monitoring the whole logistical process. To put it bluntly: We do all the planning and all the work to make your project a success.
In our capacity as a wagon leasing and rail logistics company, we have accumulated a wealth of expertise in eco-friendly rail freight. We also have access to a large fleet of special wagons and containers for every conceivable cargo – even for heavy and oversized loads such as large construction machinery and industrial plant. Our extensive network of partners reliably handles all other required modes of transport.
How you benefit:
We handle all modes of transport to complete regular and special transports
We manage transports from your factory or supplier right to your final destination
We provide advice on design, packaging and documentation
We handle all customs issues, documentation and full transport insurance coverage
We perform transportation studies and survey the entire route
Our staff provide on-site support for packaging, assembly and monitoring of the loading process
Contact us
Looking for more details? Our experts will be happy to answer your questions.
Contact form

Sascha Bengel
Head of Project Logistics Western Hemisphere
+49 30 555 08-130