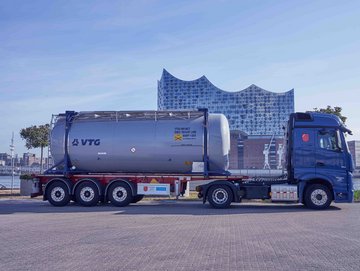 Tank container
Logistics
Put our extensive expertise in international tank container logistics to good use!
You can lease tank containers from VTG, but we also deliver the logistical services to go with them. Smooth and safe transport processes are critically important for consignments of liquids and temperature-controlled products in particular – and all the more so for hazardous goods.
Shipping your products in tank containers gives you the flexibility to easily switch between different modes of transport. We develop sustainable logistics concepts to get your goods from A to B in the safest and best way possible. To do so, we use all intermodal transport routes available, drawing on an excellent network of VTG facilities and strategic partnerships. This network provides add-on services such as storage, heating and transfer to other containers, as well as guaranteeing professional on-site support.
Our Tank Container team will work out optimal logistics solutions for you. Thanks to our special expertise in rail freight transport, we can support you in shifting transports from road to rail and opening up sustainable and safe transport routes. On request, we can also manage your own tank container fleet – to boost its efficiency and free you up for your core business.
How you benefit:
Complete package consisting of logistics services and tank container leasing
Solutions for the chemical industry in Europe and along the Eurasian corridor
Use of all routes available for intermodal transports
High level of expertise in eco-friendly rail freight transport
German Freight Forwarders' Standard Terms and Conditions
| | |
| --- | --- |
| Transport Service Terms and Conditions | PDF |
| German Freight Forwarders' Standard Terms and Conditions | We operate exclusively in accordance with the Allgemeine Deutsche Spediteurbedingungen 2017 (ADSp 2017) (German Freight Forwarders' General Terms and Conditions 2017). In clause 23 the ADSp 2017 deviates from the statutory liability limitation in section 431 German Commercial Code (HGB) by limiting the liability for multimodal transportation with the involvement of sea carriage and an unknown damage location to 2 SDR/kg and, for the rest, the customary liability limitation of 8.33 SDR/kg additionally to Euro 1.25 million per damage claim and EUR 2.5 million per damage event, but not less than 2 SDR/kg. |
| VTG Tanktainer Transport Bill of Lading | PDF |
| VTG Tanktainer emergency number | + 49 40 28059-444 |
Contact us
Looking for more details? Our experts will be happy to answer your questions.
Contact form

Joachim Goldenbaum
Head of Sales Tank Container Logistics
+49 40 28059-161