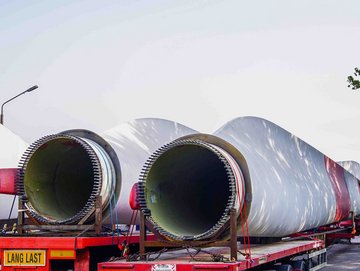 Engineering, Procurementand Construction(EPC)
VTG specializes in mastering the challenge of transporting construction machinery and sensitive technical equipment. We are happy to handle the end-to-end logistics for your projects.
Shipping machinery presents a number of challenges: technical plants and equipment tends to be highly sensitive and therefore requires special protection against possible damage. The sheer dimensions too often necessitate unusual transport solutions, all of which demands exact project planning that covers every eventuality in advance. We are experts in the engineering, procurement and construction (EPC) segment. Our team of experienced project logistics specialists provides sound advice from the earliest planning and design phases and produces transportation and feasibility studies to match your precise requirements. Our network of VTG offices and external partners abroad enables us to plan and coordinate every aspect of your cross-border transports. The same network also allows us to monitor interfaces at numerous transshipment points – and to make sure your goods and equipment get safely to where they are needed. All this expertise is complemented by a series of add-on services that go beyond the planning and coordination of your transports.
How you benefit:
On your behalf, we manage every aspect of transportation – from your factory or supplier to the agreed destination.
We handle end-to-end project logistics, using all modes of transport in the transport chain that make sense from a cost and time perspective.
We are also happy to advise you on design issues, the packaging for your construction machinery and equipment and all necessary documentation.
We handle all customs formalities for your project and take care of all necessary transport insurance.
Our staff can produce transport studies for you, inspect itineraries and help you with packaging, assembly and the monitoring of loading activities.
Contact us
Looking for more details? Our experts will be happy to answer your questions.
Contact form

Sascha Bengel
Head of Project Logistics Western Hemisphere
+49 30 555 08-130