Branch: Mineral oil<br> Segment: White petroleum rail tank cars<br> Load: Acetone, Petrol, Biodiesel, Butanol, Diesel, Ethanol, Heptane, Hexane, JET A1, Methanol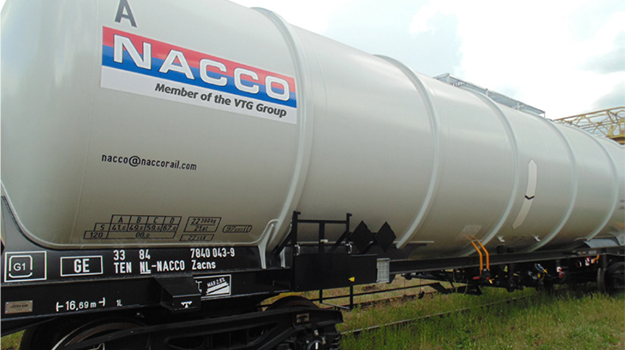 Features
Ideal for the transportation of RID class 3 liquid goods (highly flammable liquids with a density of 0.7 t/m³).
This tank wagon can also be used to transport liquid goods in the RID classes 6, 8 and 9.
Can be filled via the bottom discharge. Top discharge can be fitted as an option.
The addition of a rissing pipe and, where necessary, a coating can convert it to a chemical tank wagon to satisfy customers' individual and product-specific requirements on a flexible basis.
Tare weight
Approx. 22.9 t + 2% t
Axle load
22.5 t
Clearance: outer wheelsets
Ca. 12,950 mm
Min. curve radius
35 m
Brake
MH-GP 1x12"-K
Brake block category
K brake block
Tank material
Carbon steel (P355)
Nominal volume
Approx. 97 m³
Forced ventilation
Mechanical, self-operating (linked to bottom
valve)
Vapour return
Operated from bottom level on both sides, with
pressure tight cap
Tank code
L4BH
Design temperature
-25/+50°C
Residue emptying
0.7° slope angle and tank sump