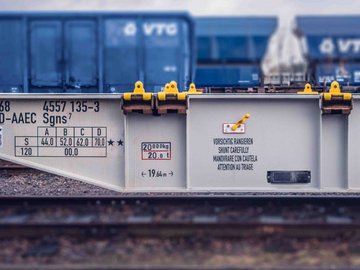 VTG Connect
By capturing valuable data about your fleet and all your transports, VTG Connect lays the foundation for efficient digital fleet management.
Precise data helps you organize your rail transports more efficiently. VTG Connect ensures that you stay in constant touch with your freight wagons and tank containers along the entire transport chain. Data is gathered all the time thanks to telematic technology – a combination of telecommunications and IT. The digital infrastructure behind VTG Connect enables you to track and trace your rail-borne rolling stock at all times. Acceleration sensors along three-dimensional axes detect any shocks, while a temperature sensor fitted in the device measures the ambient temperature. Both features help detect and/or prevent possible damage to your equipment or cargo.
We started digitalizing rail freight with VTG Connect back in 2016. This marked a major step toward the mobility of the future, as well as further expanding our service portfolio. Today, what was then a pioneering project is delivering a broad base of data that we place at your disposal on our traigo customer platform or even in your own system.
How telematics works
Ideally, the VTG Connector should be fitted to the l-beam on freight wagons. Solar cells and a built-in battery supply it with power, and the position of each wagon is regularly determined via the global navigation satellite system (GNSS). Every six minutes when the train is in motion and has connectivity, VTG Connector uses the mobile communication network to send its data to a back-end system for analysis. All business-related information is then made available in a front-end system (such as traigo) or via the standardized ITSS1 data interface. The data accumulated by the digital system is encrypted in accordance with AES 128/256 throughout the whole transmission process. Data hosting and data storage are compliant with ISO 27001.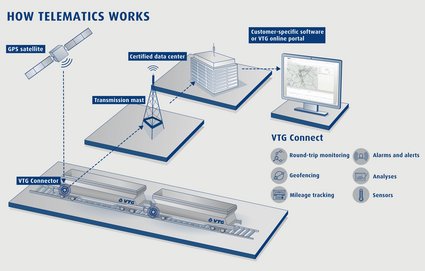 Features of the VTG Connector device
| Device specifications | Power supply | Data processing |
| --- | --- | --- |
| ATEX Zone 1-certified acceleration sensors to detect impacts or shocks along three-dimensional axes | Energy harvesting for autonomous operation | Encrypted data transfer in accordance with AES 128/256 |
| Temperature sensor to measure the ambient temperature | Lithium-ion battery | Data hosting and storage in accordance with ISO 27001 |
| Position and velocity determination via GPS/QZSS, GLONASS, Galileo, BeiDou and GSM triangulation in cases where GNSS positioning is not possible | Intelligent algorithms to minimize power consumption and adapt the device to environmental conditions | Data forwarding via an ITSS1 standard interface |
| Wireless connectivity to external devices and sensors via WPAN IEEE 802.15.4 2.4-GHz band for product monitoring and to support operating processes | | |
| Maintenance-free device | | |
| Alarm functions – A trigger engine facilitates alerts in response to unforeseen transport events | | |
| Geofencing – Definition of point of interest (PoI) zones and geozones: Notifications are sent automatically when a wagon enters or leaves these zones | | |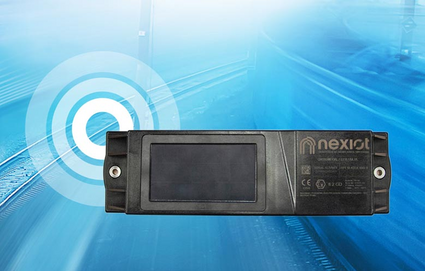 ATEX certifications for the VTG Connector
As of 2017, VTG has also been fitting hazardous goods wagons with the VTG Connector on. The corresponding certificates and documents can be found here:
Contact us
Looking for more details? Our experts will be happy to answer your questions.
Contact form

Peter Toepfer
Senior Project Manager
+49 40 2354-2218