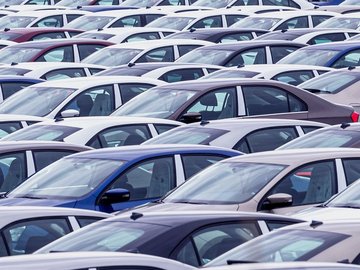 Automotive
Short transit times, no waiting at borders: Our Retrack network gives automotive companies the benefit of fast delivery times and high flexibility.
Fluctuating volumes, fast lead times and high quality standards are typical of the automotive industry, so departures and arrivals have to be punctual and reliable. Our railway company Retrack masters this challenge with flying colors, giving you access to our extensive network and sizeable pool of electric, diesel and hybrid locomotives at any time. Retrack operates in Germany, Austria, the Czech Republic, Hungary and Slovakia and boasts a very broad network of partners. As a result, we can respond quickly and flexibly to varying volumes in the course of the year – even at the last minute.
How you benefit:
Our high-performance Retrack network facilitates rapid transit times for your automotive transports, with no waiting at borders.
To optimize your carbon footprint, VTG can, on request, supply green energy for use by the locomotives deployed.
Since VTG's locomotives are fitted with GPS modules, you know their exact position – and can accurately predict arrival times anytime.
A combination of inbound and outbound logistics enables us, in collaboration with our partner VEGA, to optimize supply chains for automotive customers. One innovation born of this partnership is the r2L basket, which we developed jointly.
VTG provides holistic modular solutions for the automotive industry and have them coordinated by our own intermodal control tower.
Contact us
Looking for more details? Our experts will be happy to answer your questions.
Contact form
Thomas Freyer
Head of Sales & Marketing Management | Deputy Head of Customer Sales & Solutions
+49 40 2354-2470