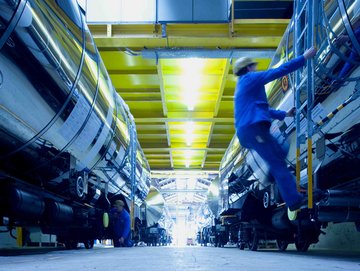 WagonManufacturing
Have your wagons and components built to your individual specifications.
Can't find a wagon in our fleet that is exactly what you need to transport your goods? No problem. We will build just what your company wants!
At our Graaff wagon construction site in Elze, Germany, a renowned VTG subsidiary, we not only build wagons for our own fleet, but also wagons, components and fittings to the individual specifications of other wagon leasing firms, rail transport companies and both industrial and service enterprises. All customers benefit from the rail logistics expertise and experience we are gaining constantly. Rest assured that when building or converting the wagons of your choice, the latest technical findings will be incorporated.
We focus in particular on the construction of new stainless steel tank cars and special valves that are used internationally for tank cars, tank containers and road vehicles – both for the transport of hazardous liquid goods and pressurized liquefied gases. For this purpose, we partner with established production companies.
How you benefit:
High-quality processes for the manufacture of stainless steel and fine-grain structural steel
Exceptional product purity thanks to the rotary flow pickling of stainless steel and the x-ray inspection of welds
Production capacity of around 450 wagons per year
Partnership approach with customers – from the drafting of specifications to licensing and commissioning
Product development in an integrated system landscape (3D-CAD/PDM/PPS), with calculations based on the finite element method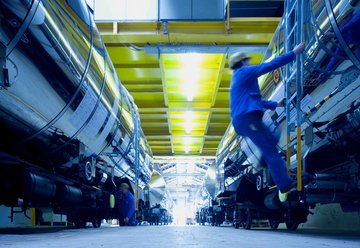 Waggonbau Graaff
For more details of our products, production methods and technical standards, please visit the website of our Elze-based wagon manufacturer.
Contact us
Looking for more details? Our experts will be happy to answer your questions.
Contact form