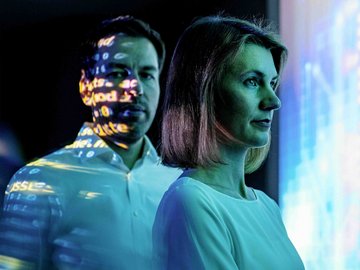 Innovations
By systematically developing and driving innovation, we are shaping tomorrow's rail freight traffic in a safe, digital, economical and sustainable way.
Rail freight is a crucial factor in reaching Europe's climate targets. Sustainable transportation concepts require profound knowledge and innovative strength – in developing wagon and equipment technologies, but also in implementing digital processes and solutions. The objective must be to make rail transport safe, simple and efficient, whilst also saving resources and being climate-friendly.
In recent years, VTG has pressed ahead with a series of new developments, including innovative freight wagons, connected rolling stock and predictive maintenance and servicing concepts. We are doing everything in our power to make rail attractive and competitive going forward. Our goal? To ensure that rail fully meets the demands of a modern, digital and more flexible supply chain.
Partnerships for innovation
The modernization and digital transformation of rail freight is a challenge we can only master together. That means we need dedicated, forward-looking partners whom we can trust to develop and implement technical and digital innovations. Since doing it alone rarely works in these areas, VTG teams up with many other companies in a wide range of cross-industry working groups, one of which is the Technical Innovation Circle for Rail Freight Transport (TIS).
We also cooperate closely with DB Cargo in areas such as development of the modular m² system and as part of a consortium to introduce the Digital Automatic Coupling (DAC). The roadrailLink (r2L) technology enables semitrailers that hitherto could not be used in intermodal transport to be craned onto freight wagons. This particular award-winning project grew out of collaboration with logistics provider VEGA International and vehicle manufacturer Kässbohrer. Additionally, we are working with two partners – Nexxiot and Intermodal Telematics (IMT) – on sensors to improve the safety of intermodal freight traffic.
More dialogue, more collaboration: traigo is the central interface for digital fleet management that combines transparency with ease of use.
Digital innovation has long been a regular feature of other modes of transport and is equally vital to the future survival of rail transport. Our digital traigo platform is designed to make rail freight easier to handle and more transparent.
traigo allows our customers to manage their entire fleet with maximum efficiency, access information about mileage and wagon statuses, analyze idle times, view forecast arrival times and enjoy permanent access to all contractual documents in digital form. This wealth of digital data in turn enables more efficient and more forward-looking decisions to be made about the company's operations.
VTG is not alone in seeing this innovation as the right way forward. In 2021, for example, traigo won three coveted awards:
The German Mobility Prize was initiated by "Germany, Land of Ideas" and the Federal Ministry of Transport and Digital Infrastructure (BMVI). In 2021, traigo was one of ten projects that won prizes for their exceptionally innovative approach to the digital transformation of mobility.
VTG finished second in the "Customer" category of the Digital Leader Award, which is presented in recognition of ground-breaking transformation projects.
Published for the second time in 2021 (the first edition came out in 2015), the Champions of Digital Transformation study investigated the status of digital transformation across German companies and highlighted success factors in the most effective transformation programs. traigo was one of the three best projects in the "Logistics" category.
From road to rail: The r2L solution makes non-craneable semitrailers craneable, which allows them to be carried by rail.
How can intermodal traffic be made more attractive and more sustainable? One way is by enabling previously non-craneable semitrailers to be lifted onto the rails. An important aspect as around 95 percent of semitrailers in the EU are still not craneable and would therefore otherwise be unsuitable for combined transport.
In cooperation with VEGA International and Kässbohrer, VTG has developed a solution that resolves precisely this problem. Its name? roadrailLink, or "r2L" in short. The key element of the r2L transshipment and transport technology is a ramp or connector into which the semitrailer is driven. A terminal crane then lifts trailer and connector together onto or off a pocket wagon. With the r2L solution virtually any non-intermodal semitrailer becomes craneable and, hence, suitable for rail transport.
For this innovation, the project was awarded the Pro Rail Alliance's German Transport Transition Prize in 2022. The r2L technology is an outstanding example for sustainable transport and mobility solutions promoting combined transport and enhancing modal shift.
To further stimulate the shift from road to rail, VTG and Vega International have signed a long-term master agreement to collaborate on a comprehensive set of intermodal offerings.
Better safety, more transparency: Innovative sensor technologies for the European wagon fleet.
More and more aspects of rail freight are now being digitized. One of them is the predictive maintenance and servicing of wagons, which makes freight transports easier to plan and more profitable. As part of our innovation project "VTG Rail Europe Status-Oriented and Predictive Maintenance", we are using sensors that allow continuous monitoring. The collected data enables maintenance work to be performed more efficiently.
This project – and hence the digitalization of rail freight using sensors – is co-financed with money from the European Commission's Connecting Europe Facility (CEF) program. VTG is a member of the Logistics Initiative Hamburg, whose assistance allowed these funds to be applied for and thus enabled the innovation project to go ahead.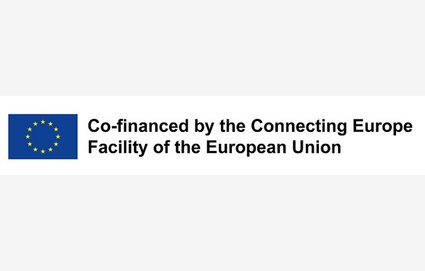 Multifunctional and modular: The innovative m² container carrier can be adapted to customers' current requirements again and again.
In an agile market environment, the practice of building and licensing wagons only for the transport of one product is often defacto obsolete. The ongoing development of the new m2 type of freight wagon, a joint project by VTG and DB Cargo, is shifting the focus more towards the forwarding industry. What makes m2 so innovative? The superstructure and underframe are separate units that can be mixed and matched like building blocks. This modular design creates a variable platform whose superstructures can be easily swapped on demand.
Multifunctionality and modularity – m2 in short – is a ground-breaking system that rethinks freight wagons literally from scratch and strengthens the role of rail freight in the supply chain. Instead of spending their entire service life serving one purpose and one purpose only, wagons can now repeatedly be reconfigured in response to changing circumstances. The resultant versatility improves logistical performance, the lifecycle capacity utilization of rolling stock and the attraction of rail freight as an ecofriendly mode of transport.
Cool box: The SWS PowerBox® delivers seamless, end-to-end cold chains and makes rail more sustainable.
To reduce CO2 emissions in the transport sector, freight transport has to be shifted from road to rail. This is especially true of temperature-sensitive products such as frozen foods, fresh meat, medicines, fruit and vegetables for which refrigeration is compulsory.
Thanks to the SWS PowerBox®, VTG can now guarantee seamless cold chain compliance on the rails. This innovation harnesses the kinetic energy of wheelsets and feeds it into a generator. The generator converts it to electrical energy which then gives refrigerated or tank containers a continuous supply of power. In recent years, the module has been tested exhaustively and successfully with customer transports. It has been improved constantly and is now ready to go to market.
The box stores surplus energy in a battery for later use – for example during breaks in the journey. Here too, every care has been taken to conserve valuable resources: Batteries that lose charging capacity over time are not disposed of. Instead, they are repurposed as energy storage units for buildings with photovoltaic (PV) installations.
The possibilities are endless, from individual refrigerated containers carried on wagons to the transfer of entire refrigerated semitrailers onto the rails. Above all, the system saves tons of greenhouse gases that would otherwise be caused by diesel-powered trucks.