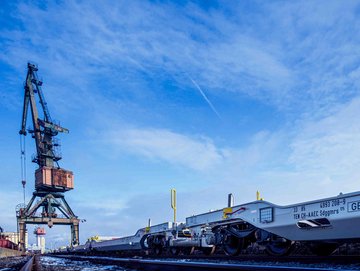 Intermodal wagons
Standardized intermodal freight wagons give you a flexible and sustainable solution for maritime container transports and continental cargo flows.
VTG is no newcomer to intermodal transport. Years of experience, in-depth technical expertise and impressive innovative credentials make us your reliable partner in this segment, too. We make wagon leasing simplicity itself. And we adapt to your individual needs: Knowing the market the way we do, we are fully aware that – today more than ever – requirements are changing all the time. Whether you need maritime container-based transports or continental cargo flows across Europe, we always have the right intermodal wagons ready and waiting, complete with all the add-on services you need to optimize your transport chain.
How you benefit:
We give you access to a standardized wagon fleet for all types of ISO containers, swap bodies, tank containers and semitrailers. Our intermodal wagons can also carry special-purpose modular superstructures.
We harness innovative solutions to shift traffic from barge or road to rail. Thanks to the r2L solution, even non-craneable semitrailers can now ride the rails and thus be incorporated in intermodal transports, while the SWS-PowerBox® supplies the power needed for temperature-controlled goods in transit on the rails.
We operate a pan-European network of stationary and mobile technical service points and can at any time add traction services to our fleet of intermodal wagons.
0
found results for
found results
Contact us
Looking for more details? Our experts will be happy to answer your questions.
Contact form
Thomas Freyer
Head of Sales & Marketing Management | Deputy Head of Customer Sales & Solutions
+49 40 2354-2470