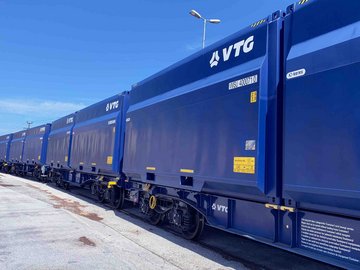 Modular Superstructures
Modular solutions that separate superstructures from underframes are an exciting new development that is making freight traffic more flexible and efficient while also increasing the volumes carried.
Separating the superstructure from the underframe and then using a variety of superstructures allows rail freight concepts to be adapted flexibly as your requirements change. One superstructure can be swapped out for another depending on your varying needs. As a result, the freight wagon itself no longer has a single, dedicated purpose, but instead becomes multifunctional. Everything centers around the customer's cargo, which is why we work with you to give you the superstructures you require. Conversion options then help you make better use of your wagon capacity and even the capacity of entire trains – a sustainable and cost-effective solution. Our goal is to continually improve the productivity of your rolling stock in the long term.
How you benefit:
Replaceable superstructures let customer vary the use of freight wagons as a function of their individual transport needs. Over the entire wagon lifecycle, that improves capacity utilization and raises productivity.
This innovative freight wagon system increases availability, as only part of the wagon (the superstructure or the underframe) has to go into the workshop for repairs or revisions. The other part can continue to operate.
Optimized weighting is factored into wagon designs to maximize your payloads.
0
found results for
found results
Contact us
Looking for more details? Our experts will be happy to answer your questions.
Contact form
Thomas Freyer
Head of Sales & Marketing Management | Deputy Head of Customer Sales & Solutions
+49 40 2354-2470