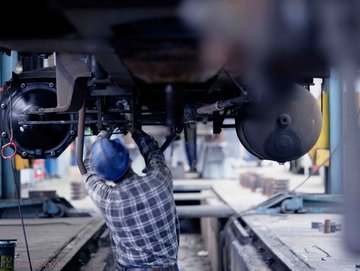 Wagon Maintenance
Minimize idle time and outages thanks to our maintenance expertise.
You naturally want to be able to rely on wagons that simply keep on running. After all, downtimes for revision, modernization, repair or maintenance cost time and money. In the case of hazardous goods, such delays can even pose a threat to safety. We make sure your wagons get back on the rails as quickly as possible. To do so, we collaborate closely with an extensive network of partner workshops. In full compliance with all relevant safety standards and with the guarantee of top quality, these modern workshops provide us and our customers with repair and maintenance services wherever they are needed.
The network includes four of our own wagon repair workshops in Germany, France and Slovakia which, together, form the backbone of VTG's maintenance concept. Regular work on our wagons gives us fresh and valuable insights into stresses and wear – and possible improvements: It is fair to say that repair work actually drives the company's innovative capabilities and technical expertise. By doing our own maintenance work, we also keep costs transparent, as well as setting the price, throughout time and quality benchmarks for repair services that we purchase externally.
The top priority for overhauls, repairs and maintenance is to get your wagon back on the tracks as quickly as possible. And here again, VTG is blazing a new trail: We are the first European wagon owner to base the maintenance of our entire fleet on the mileage clocked up by each individual wagon. The real-time data needed for this purpose is collected via VTG Connect. The days of wagon inspections at fixed intervals are a thing of the past. Instead, your freight wagons now only have to stop by for maintenance when it is genuinely necessary. This innovative maintenance system significantly increases the availability and uptime of your wagons.
Mobile service – where the workshop comes to the customer
Our mobile service literally comes to your doorstep. VTG's specialists bring a fully equipped workshop truck to your premises or a location of your choice. The work takes place on site. In some cases, the 30-day period usually planned in for revisions has been slashed to just a single day per wagon. Besides making repairs, the mobile teams can also perform functional inspections such as pressure tests and functional tests for bulk goods wagons and tank cars. G 4.8 and G 4.2 revisions can likewise be completed.
Contact us
Looking for more details? Our experts will be happy to answer your questions.
Contact form
Thomas Jussen