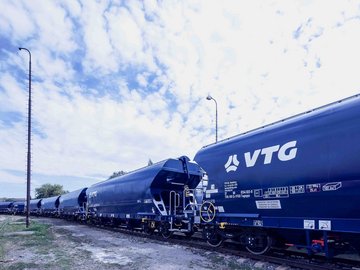 Standard freight wagons
An array of standard freight wagons of different types for everything from steel products to agricultural produce to building materials.
Steel products, agricultural produce, building materials, you name it: Standard freight wagons are the preferred option to transport these and a whole series of other cargos. They can always be relied on as a solid basis for regular flows of goods. Yet they are also the ideal solution to accommodate seasonal or cyclical volume fluctuations in agriculture and the building trade, for instance. VTG has a large fleet ready and waiting. And even for inquiries at short notice, it can lease out precisely the models you need: covered wagons, wagons with opening roofs, flat wagons, box wagons and hopper wagons for all kinds of applications.
How you benefit:
VTG provides an extensive selection of standard freight wagons of varying types to meet your individual transport requirements.
Our standard freight wagons let you absorb seasonal or cyclical peaks in transport demand, even at very short notice.
VTG's standard freight wagons are also suitable for carrying heavy goods that place exceptional strains on the materials used.
0
found results for
found results
Contact us
Looking for more details? Our experts will be happy to answer your questions.
Contact form
Thomas Freyer
Head of Sales & Marketing Management | Deputy Head of Customer Sales & Solutions
+49 40 2354-2470