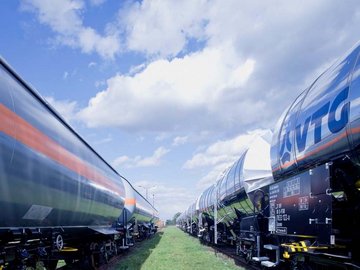 Tank Wagons
An extensive range of tank cars for high volumes, temperature-controlled goods, gases, chemicals, petrochemical products, powered goods and hazardous goods of all kinds.
We have been developing and building tank cars for decades. Take advantage of both our huge fleet of tank cars and our expertise in the transportation of hazardous goods. Our specialists guarantee full compliance with the strictest safety standards, while also efficiently managing your freight from the point of delivery or acceptance of the tank car to the final destination – even for cars leased at short notice. Our portfolio includes tank cars with vacuum-insulated tanks to transport liquefied natural gas (LNG) and mild or stainless steel wagons – rubberized or otherwise coated – to handle a variety of hazardous goods specifications.
How you benefit:
We provide an extensive array of tank cars of various types to meet your individual transport requirements.
VTG's top-quality tank cars comply with all relevant safety standards. Additional safety equipment can be fitted on request.
If you need a tank car that does not fit any of the usual molds, we can build it for you at our own wagon manufacturing workshop.
0
found results for
found results
Contact us
Looking for more details? Our experts will be happy to answer your questions.
Contact form
Thomas Freyer
Head of Sales & Marketing Management | Deputy Head of Customer Sales & Solutions
+49 40 2354-2470