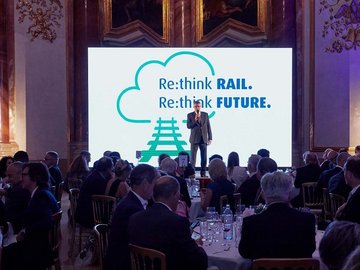 Political Stimulus
We engage in dialogue with political decision-makers, supplying them with information and background data on the rail system.
Our position
The transport sector is of crucial importance in meeting the German government's climate policy targets. Why? Because around one fifth of Germany's greenhouse gas emissions are caused by traffic and transport. Since freight transport can make a major contribution to reducing these emissions, rigorous efforts to ramp up rail freight have tremendous potential to mitigate climate change.
In addition, the pandemic has shown how important it is to have resilient global flows of goods if economies, industries and society are to be reliably supplied with what they need. While borders were closed and trucks were stranded, freight wagons continued to ride Europe's rails and reach their destinations safely, efficiently and in a way that is kind to the climate. That is another reason why the government must adopt a resolutely pro-rail policy. We have already clearly defined our regulatory proposals:
Our policy briefs
Our policy briefs discuss and comment on current developments in rail freight. They give rail a voice that is heard by political decision-makers.