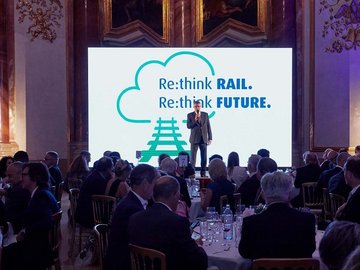 Political
Stimulus
We engage in dialogue with political decision-makers, supplying them with information and background data on the rail system.
Our position
The transport sector is of crucial importance in meeting the German government's climate policy targets. Why? Because around one fifth of Germany's greenhouse gas emissions are caused by traffic and transport. Since freight transport can make a major contribution to reducing these emissions, rigorous efforts to ramp up rail freight have tremendous potential to mitigate climate change.
In addition, the pandemic has shown how important it is to have resilient global flows of goods if economies, industries and society are to be reliably supplied with what they need. While borders were closed and trucks were stranded, freight wagons continued to ride Europe's rails and reach their destinations safely, efficiently and in a way that is kind to the climate. That is another reason why the government must adopt a resolutely pro-rail policy. We have already clearly defined our regulatory proposals:
In 2021, only 7.6 percent of all domestic goods transports in Germany traveled by rail, against around 79 percent of goods that were carried by road – despite the fact that rail freight is safer, more reliable and more sustainable than road haulage. To remedy this imbalance, it is necessary to invest in and improve the rail infrastructure, further develop terminals and expand railway sidings. Another urgent priority is to restructure the cost of freight traffic. Introducing a price for CO2 provided a positive initial incentive. If no further measures follow, however, this alone will not be enough. Other strategies could therefore involve implementing further and permanent cuts in track prices or exempting rail freight from the 'EEG levy' pursuant to Germany's Renewable Energy Act.
Rail freight can unleash its full potential only if healthy competition prevails among all providers. Subsidies for individual companies must be avoided to prevent monopoly situations and unfair advantages for isolated players. Innovation and progress can take root only where the best ideas are free to flourish and grow. Fair conditions for all parties lay the foundation for successful and effective competition – both in Germany and in the international arena. Only then can financially attractive and environmentally friendly rail freight thrive and become a serious international competitor to road haulage. The government should therefore focus on the need to invest in the rail infrastructure, and on the digital and technological innovations that will yield equal benefits for all players in the rail freight space. In brief, we advocate measures that strengthen and promote the performance of rail by improving the conditions within which it operates, rather than holding rail back with ineffective subsidies.
Digitalization is a game changer in virtually every segment of the economy. Rail freight too can benefit from going digital to a far greater degree. Equipped with telematic technology, digital freight wagons already beam valuable data in real time to optimize the flow of goods and thus make supply chains more efficient and more sustainable. Going forward, connectivity across all modes of transport can help make combined transport – intelligent links between rail, road and waterways – more attractive for logistics companies and shipping agents. For this to happen, however, we will need a pan-European roadmap for the digitalization of rail freight – a roadmap that intelligently coordinates and weaves together the various planned and existing digital initiatives. That will both benefit the climate and take the strain off the road infrastructure. Accordingly, it is crucial to systematically promote innovative approaches such as introducing digital automatic central buffer couplings (DACs).
Incentives for long-term investment are vital if rail freight is to assert its position as a safe, sustainable and climate-friendly transport solution. That in turn will require an intelligent and forward-looking financial and fiscal policy framework – a framework that, above all, makes due provision for the follow-up and second-round financing effects that can effectively counteract the targeted promotion of rail. This consideration must, for example, be factored into the design of foreign tax laws, asset taxes and the EU's Taxonomy Directive. Especially with a view to a fundamental shake-up of tax and levy systems to promote sustainability, impacts on rail must be factored in from the beginning. Investing in climate-friendly technologies such as rail freight must be incentivized and not hindered. To this end, the design of financial and fiscal policy frameworks that are conducive to investment must reflect climate policy targets and be seen as part of the big picture in order to identify and preclude potentially counterproductive measures as early as possible.
Hydrogen will play a key role as a source of energy in the forthcoming transport and energy transition. Demand for 'green' hydrogen is therefore expected to rise. According to Germany's National Hydrogen Strategy, the country will also have to import large quantities of this hydrogen. However, while the debate about production and possible applications is already in full swing, there is still no robust concept on the table for the future transportation of green hydrogen. This has to change in short order, because this is another area where rail freight can play a significant part in delivering greater sustainability and mitigating climate change. The basic technology needed to transport hydrogen safely by rail already exists. Carrying hydrogen by rail is more sustainable than doing so by road and more flexible than using gas distribution grids. On the other hand, developing and supplying suitable freight wagons, transshipment facilities and infrastructure is very capital-intensive – and will be economical only to a limited extent during the market launch phase. When implementing the National Hydrogen Strategy, it is imperative to give due consideration to transport in general and the benefits of rail freight in particular. Only then can investments be secured and planning be as reliable as it needs to be. Government subsidy programs to cover the heavy initial outlay would be a sensible approach.
Our policy briefs
Our policy briefs discuss and comment on current developments in rail freight. They give rail a voice that is heard by political decision-makers.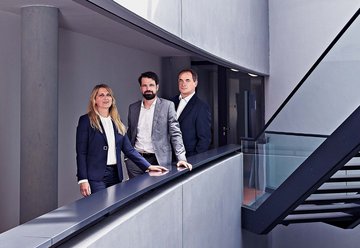 Management
Learn more about the members of VTG AG's Executive Board and Supervisory Board.