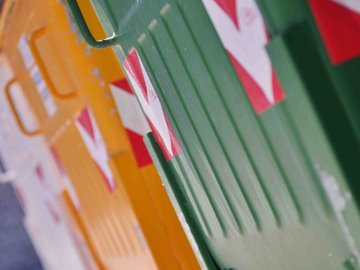 Disposal
By providing suitable wagons and logistics concepts for waste transport, VTG supports a functioning circular economy and, hence, a sustainable development.
Many waste and recycling products are ideal for ecofriendly transportation by rail. Our transport concepts help society in general and you in particular to move toward a sustainable future. The services we provide to the waste disposal industry include a broad spectrum of special wagons and transport solutions. Whatever the nature of the waste you want our freight wagons to carry, we always tailor our solutions precisely to your needs, giving our full backing to sustainable development and the circular economy. To give you an example: Currently, VTG is developing modular solutions for the recycling industry ensuring that, with the right equipment, more and more waste products can be shipped by rail in the future.
How you benefit
VTG offers a wide range of different wagon classes depending on the product properties in each case.
Our portfolio includes a fleet of modular wagons to carry light to medium-weight bulk goods that are unloaded with rotary forklifts. Specially designed wagon underframes optimize the payload while minimizing train lengths.
We have the flexibility to build wagons to your individual specifications, even in small series.
VTG makes single wagons, wagon groups and block trains available all over Germany and Europe. On request, we can also manage your fleet.
VTG's innovative customer platform traigo and digital solutions keep you constantly up to date about the location of your wagons and transports and the status of your cargo.
Contact us
Looking for more details? Our experts will be happy to answer your questions.