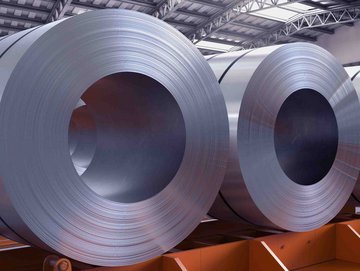 Steel
VTG is your reliable partner for steel transports. We develop customized logistical concepts and provide the wagons and engines to suit your requirements.
Freight transport in the steel industry poses specific challenges. Heavy goods such as steel place exacting demands on the material used in freight wagons. Valuable steel products are governed by strict safety standards in transit and require smooth process handling throughout the entire supply chain. Nor is that all: Seasonal, cyclical and demand-driven shifts in volumes also create the need for ad-hoc and long-term transport solutions that are equally robust. VTG is your reliable partner for sophisticated logistical concepts. Our experts excel in finding competitive solutions that fit your needs like a glove. Whether you require modular single wagons, wagon pools or block trains, fleet management services or tailor-made logistical concepts including tracking and tracing, VTG gives you all these solutions and more – all to the high standards of safety and quality demanded by the steel industry.
How you benefit:
VTG's pan-European network of experts implements steel transportation concepts and provides technical advice in your home country and abroad.
From freight wagons designed to meet special needs to traction with our own railway company Retrack, VTG gives you everything from a single source – with a strong focus on the circular economy.
We give you access to an extensive and highly specialized fleet for your steel transports – from Shimmns for coil transports to flat wagons for girders to Fal wagons and even modular freight wagon systems (ModuPallet Coil, ModuPallet Coil & Steel and ModuPallet Pipe).
We can build prototypes and wagons to order in accordance with your specifications. Wagon conversion is also possible.
VTG's innovative customer platform traigo and our digital solutions keep you constantly up to date about the location of your wagons and transports and the status of your cargo.
Contact us
Looking for more details? Our experts will be happy to answer your questions.