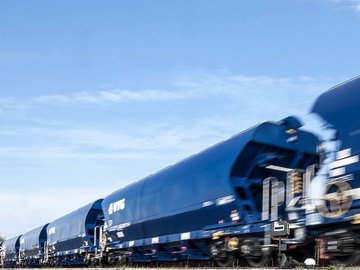 Finding the logistical sweet spot – VTG on the move for Lindt & Sprüngli
Sustainability is a promise that Lindt & Sprüngli makes to its customers. In everything from the choice of cocoa beans to transportation to the finished product, the Swiss chocolate maker shoulders its responsibility. At VTG, too, sustainability and responsible action are lived out as core values. Accordingly, VTG is rethinking rail freight with a combination of innovative, integrated services covering every aspect of rail transport. Our stated aim? To convince our customers of the strength of the rail system – and, in so doing, to actively drive the new transport paradigm.
The European Association of Chocolate, Biscuit and Confectionery Industries (Caobisco) reports that an average of 14.7 million tons of confectionery products was manufactured in the European sector in 2019. Cocoa beans – the fruit of the cocoa tree, which grows north and south of the equator – are needed to produce chocolate bunnies, pralines and countless other chocolate delights. After harvesting, the fruits are opened up and the beans removed. The dried beans are then filled in jute bags for transportation to the ports and, from there, by container ship to Europe and the USA.
After Hamburg and Antwerp, Amsterdam is one of the foremost European ports for the import of cocoa beans. It is also the largest inbound node for rail freight. No fewer than 14 terminals, each with its own sidings, give the port ideal links to the European rail network. With a strong focus on multimodal traffic, it is already playing a major role in the development of supply chains that are kinder to the environment.
The teams at Lindt & Sprüngli and VTG have together developed a transport solution that helps fight climate change but also delivers a raft of further benefits. VTG made wagons available that were modified to transport cocoa beans from Amsterdam to the factory in Olten, Switzerland. Regular hopper wagons, which are ideal for carrying moisture-sensitive farm produce such as cocoa beans, were converted and fitted with two 25-ton compartments, thus allowing every consignment to be tracked and traced. A readily accessible aperture for taking quality control samples was another important requirement to boost efficiency.
One challenge Lindt & Sprüngli shares with many industrial companies is the need for a continuous supply of raw materials to its factories. Responding to this requirement, VTG worked with the customer to develop a tailor-made logistical concept: Instead of single-wagon transports, VTG now regularly puts together whole block trains to carry cocoa beans from the port in Amsterdam to the cocoa mass factory in Olten at weekends.
Thanks to its collaboration with VTG, Lindt & Sprüngli can now significantly reduce CO2 emissions by transporting its cocoa beans by rail compared to trucks.