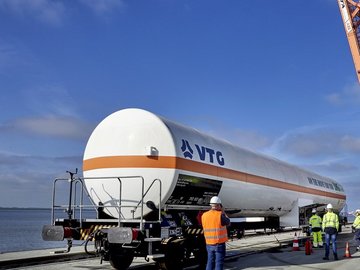 A reliable partnerfor the future ofenergy supplies
Alternative energy sources can be shipped safely and eco-friendly by rail. This is very important to VTG.
To diversify its energy supply, Europe must push ahead with imports of hydrogen and liquefied natural gas (LNG). Only then will it be able to become less dependent of gas supplies via pipelines and also reach its climate policy targets. For this to succeed, it is indeed time to invest in the import and distribution infrastructure and to develop tailored logistics concepts. Rail has an important role to play here, providing a safe, climate-friendly transport of alternative energy sources.
When Russia attacked Ukraine in February 2022, what had been a latent concern became alarming certainty: Europe has no choice but to realign its energy supply and diversify the sources from which it procures that energy. While the direct use of power generated by the sun and the wind is of supreme importance, that alone will not be able to meet all our energy needs. Germany and Europe remain dependent on gaseous and liquid sources of energy. Natural gas is the pivotal source of energy for both industry and the provision of heating: Gas heats roughly 50 percent of German homes, for example. What is needed, however, are new sources of natural gas – and above all new means of energy that are kinder to the climate. Both challenges are shifting the focus onto new import channels and new transport systems.
A partner to industry and the government
VTG has for years been working on solutions to carry new energy sources by rail. The process involves completely rethinking the transportation of energy – from the development of special transport containers to logistical planning and transports involving our in-house railway company to digital customer service. Numerous VTG units are thus applying themselves to the issues surrounding alternative energy supplies. And all these activities are developed and steered by Business Development, where Finn Torge Bremer and Stefan Siegemund are two of the people in charge. "We see ourselves as a partner to industry and the government," Bremer says, summing up how VTG understands its own role in transporting new energy media. "Years of experience and intensive dialogue with an array of partners have given us a thorough knowledge of the industry. So we are already in a position to provide products, services and consulting to drive successful entry into the transportation of alternative energy sources such as hydrogen, LNG and even CO2."
LNG by rail
As far back as 2015, VTG became the first (and so far only) company to unveil an innovative liquefied natural gas (LNG) tank car. Developed in collaboration with Chart Industries, the car features an insulated tank that can safely carry large volumes of cryogenically liquefied gas by rail. LNG has for already been transported as a global commodity in special tankers for many years. In the future, however, Europe will be supplied with far more LNG. And in the meantime, the first biomethane liquefaction plants are also now taking shape.
On the flip side, a number of countries still lack one important piece of the supply puzzle. Germany, for example, still has no dedicated LNG import terminal – no plant where LNG (and hopefully other gases going forward) can be unloaded, regasified and/or simply transferred to the rails for its onward journey. Terminals at Brunsbüttel and Wilhelmshaven have been planned for many years and have now both elicited political backing and been given the green light. Initial consignments of LNG should thus be able to arrive in northern Germany starting in 2023. When these (and other) terminals are ready to start work, VTG will be standing by as a partner. However, while the loading and transport of LNG in tank cars has been successfully tested on several occasions in recent years, terminal operators and industry players have yet to create crucial conditions for rail transport. Firstly the construction of railway sidings where loading and unloading technology is already in place. Secondly the planning of an adequately dimensioned rail infrastructure also above and beyond ports and terminal facilities.
Clearing the way for hydrogen
Importantly, LNG is not the only consideration in Europe's changing energy strategy. Hydrogen is equally pivotal to the European Commission's REPowerEU planning. 'Green' hydrogen generated from renewable sources effectively delivers carbon-neutral energy, as the production process gives off little or nothing in the way of greenhouse gas emissions. "We are well aware that hydrogen transports will increase in the years ahead," Stefan Siegemund notes. "And VTG is excellently prepared. We have invested and are continuing to invest so that we will be able to support our partners by letting them lease equipment such as special tank cars and tank containers." Finn Torge Bremer agrees: "We have logistical concepts that are tailored to carrying hydrogen, and we have the necessary traction thanks to our railway company Retrack. Beyond that, we are already planning concepts for the rail-based transport of CO2 – for example when blue and/or turquoise hydrogen comes into play."
Contact us
Our staff will be happy to help you.
REPowerEU is a European Commission plan to accelerate the transformation of the energy sector in order to reduce dependency on fossil fuel imports from Russia while also cutting greenhouse gas emissions.
The plan's ambitious energy-saving targets are flanked by the following objectives:
Closer coordination of how the EU member states procure and transport gas and hydrogen
Production of 10 million tons of green hydrogen in the EU and the import of a further 10 million tons to the EU by 2030
The doubling of the EU's biomethane production to 35 billion m³ by 2030