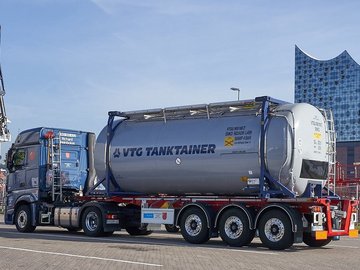 SWAP Tank container with baffles
35,000 litre insulated portable swap tank with 4 baffles,
type T11 (L4BN)
The tank is fully ground-operated and equipped with an indicator showing the opening position of the air valve.
It has a large heating surface and a heated bottom valve flange.
A minimum filling level is not necessary due to the baffles.
If required, a temperature sensor system with GPS transmission can be retrofitted to the steam heater.
Technical details
| | |
| --- | --- |
| Type | Welfit Oddy Light Weight Beam MK 2 |
| Nominal Capacity | 35,000 l |
| Max. gross weight | 39,000 kg |
| Tare Weight (excl. glycol) | 4,340 kg |
| Length | 7,820 mm |
| Width | 2,550 mm |
| Height | 2,700 mm |
| Shell manufacturing thickness | 4.40 mm |
| Metallurgic Design Temperatur for Tank | -40°C to +150°C |
| Maximum allowable working pressure | 4,00 bar |
| Shell material | Stainless steel 316L to SANS 50028-7 type 1.4402/1.4404 EN 10028-7 type 1.4404 |
| Air Inlet and Remote Line Assembly | Ground-operated air valve |
Browse through our extensive fleet to find exactly what you need.
Need a quick fix or a long-term lease? Individual freight wagons or a whole train? Whatever you need, you will find it in our portfolio: the right tank cars, standard freight wagons, intermodal freight wagons, tank containers and modular superstructures. Especially if you have special requirements, you will benefit from the impressive technical capabilities of our experts and our fleet of highly specialized wagons.
We look after your fleet, you look after your core business.
Looking for a reliable partner to manage your fleet? VTG handles every aspect of management, including technical support for your fleet. That gives you more time to devote to your core business, while we oversee the maintenance and revision of your freight wagons.
Why not sell us your fleet and reap the benefits of leasing instead?
Another option is the sale-and-lease-back approach: We buy your fleet and lease it back to you. The benefit to you? You only lease the rolling stock you really need from VTG, leaving you free to invest the freed up human and capital resources elsewhere.
Experience professional consulting on everything to do with wagons, superstructures and tank containers.
VTG provides you with a broad spectrum of services for the equipment you lease. You can benefit from our years of experience, in-depth specialized knowledge and the dedication of our experts. We would be happy to advise you on all technical and legal issues surrounding rail freight transports, including safety requirements for the transportation of sensitive goods. On request, we can even train and instruct your people.
Contact us
Looking for more details? Our experts will be happy to answer your questions.
Contact form

Maurice Verbeek
+31 61 3738 051