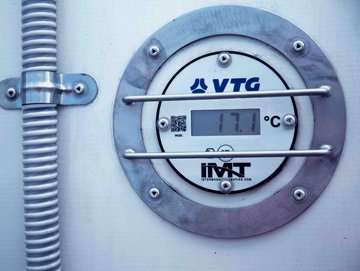 Sensors
Safety is better, planning is easier: Sensors keep you informed of the status of your freight wagons and consignments at all times.
A combination of cutting-edge sensors and telematic systems supplies you with vital data about the goods you are moving by rail. Thanks to this information, you can respond immediately if anything deviates from plan. Better still, you can monitor the status of freight wagons and tank containers before damage occurs. Our sensor solutions – such as kingpin and temperature sensors – boost operating efficiency, make processes more transparent and make rail freight traffic much safer.
True to its reputation as a rail freight innovator, VTG is constantly testing all kinds of new potential applications for digital sensor technology. Right now, for example, we are working on digital solutions such as automated braking tests and the automated recognition of loaded and unloaded wagons.
How you benefit:
Sensors capture a constant stream of vital information about your transports – giving you a solid basis on which to make fast decisions.
The data helps you maximize fleet uptime: The technology immediately reports any problems or disruptions – long before they can turn into damage and losses.
The sensors effectively make your rail transports smart, which means they are safer and more efficient than ever. Manual processes are digitalized, so any irregularities in transit are flagged instantly.
Contact us
Looking for more details? Our experts will be happy to answer your questions.
Contact form

Armin Cajic
Project Manager Technical Innovations
+49 40 2354-2286