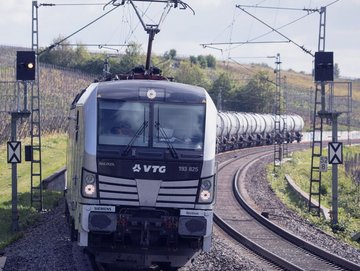 Logistical Services
Make efficient, rail-based transport the solution of choice for your cargo – complete with end-to-end logistics spanning the whole transport chain.
There is more to logistics than getting your goods from A to B. From a single source, VTG gives you every service you need to successfully complete your transports. Whether you need rail, tank container or flexitank logistics in Europe or Eurasia, our unique blend of knowledge and experience makes us a partner you can rely on: We handle every logistical aspect of your freight traffic from start to finish, leaving you free to concentrate on your company's core business. Retrack, VTG's own railway company, can also supply you with traction services. Even outsized EPC transports are no problem for VTG.
Our services
Put your cargo on the rails with our sophisticated logistical solutions.
We can help you put your freight on the rails. Whatever cargo you have, however much you want to send and wherever you want to send it, VTG gives you all the forwarding services you need from a single source.
See what Retrack – VTG's own railway company – can do for you.
We clear the way for your rail freight transports. Retrack GmbH, VTG's in-house railway company, gives you constant access to our extensive network and large pool of electric locomotives, diesel engines and hybrid engines.